An authentic history shaped by many people
The vineyard and its wines
A collective of winegrowers who have come together under a shared philosophy: creating fine, accessible wines that stand out thanks to their distinctive terroir. Enhancing our land while respecting individual locales, bringing to light treasures to discover anew: this is the story of the wines of Mercurey.
The Mercurey wine-growing region is located along from the Côté de Beaune, 10 km north-west of Chalon-sur-Saône on the Autun road, at the heart of the Chalonnais region. It is nationally renowned, mainly for its red wines. Although it has been a wine-growing area since ancient times, in 1923 Mercurey officially became a Appellation d'Origine Contrôlée geographical indication label, making it one of France's oldest AOCs. Since then, Mercurey's vineyards have continued to produce Burgundy's great wines and ensure the prestige associated with them keeps spreading.
---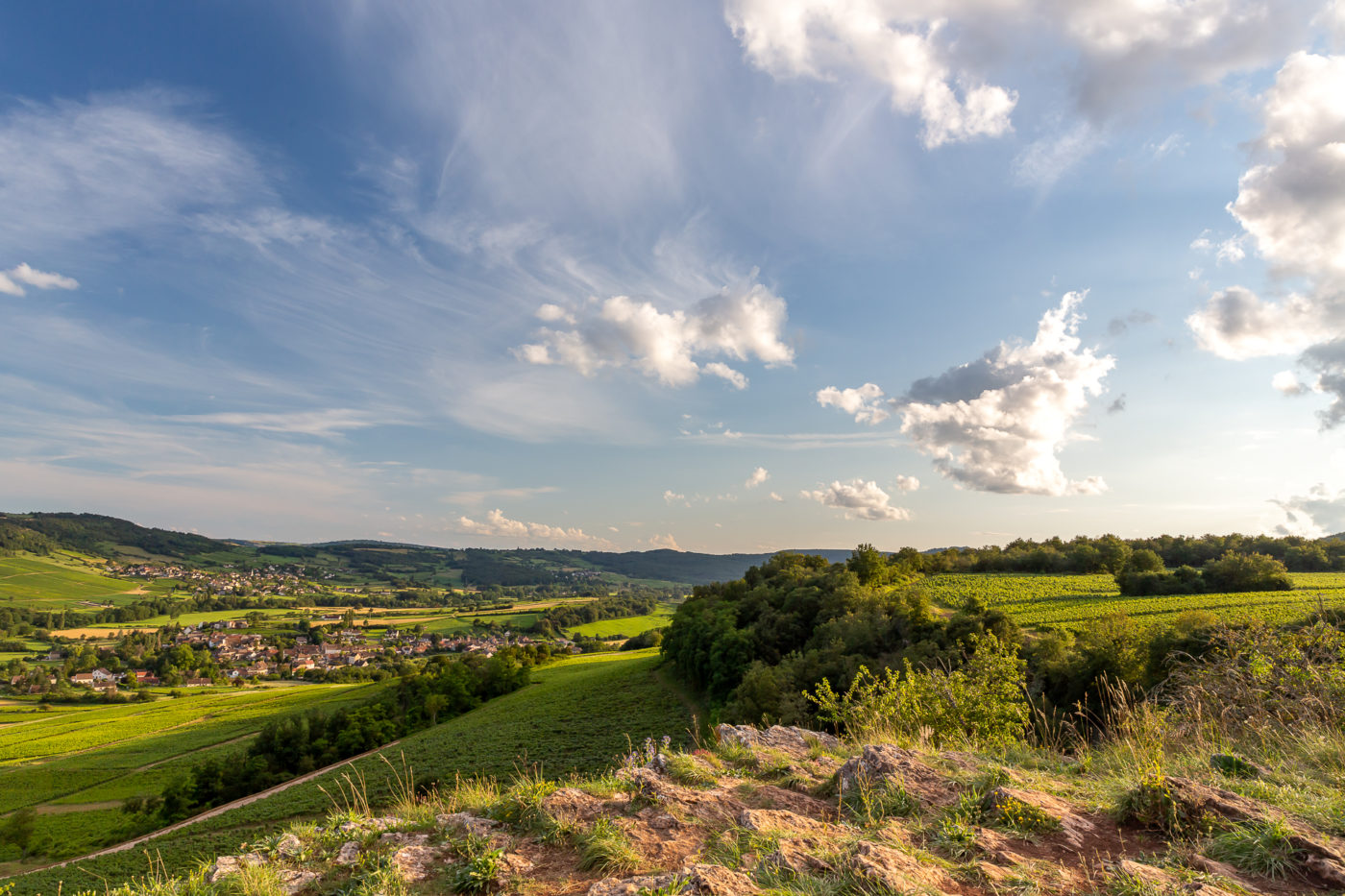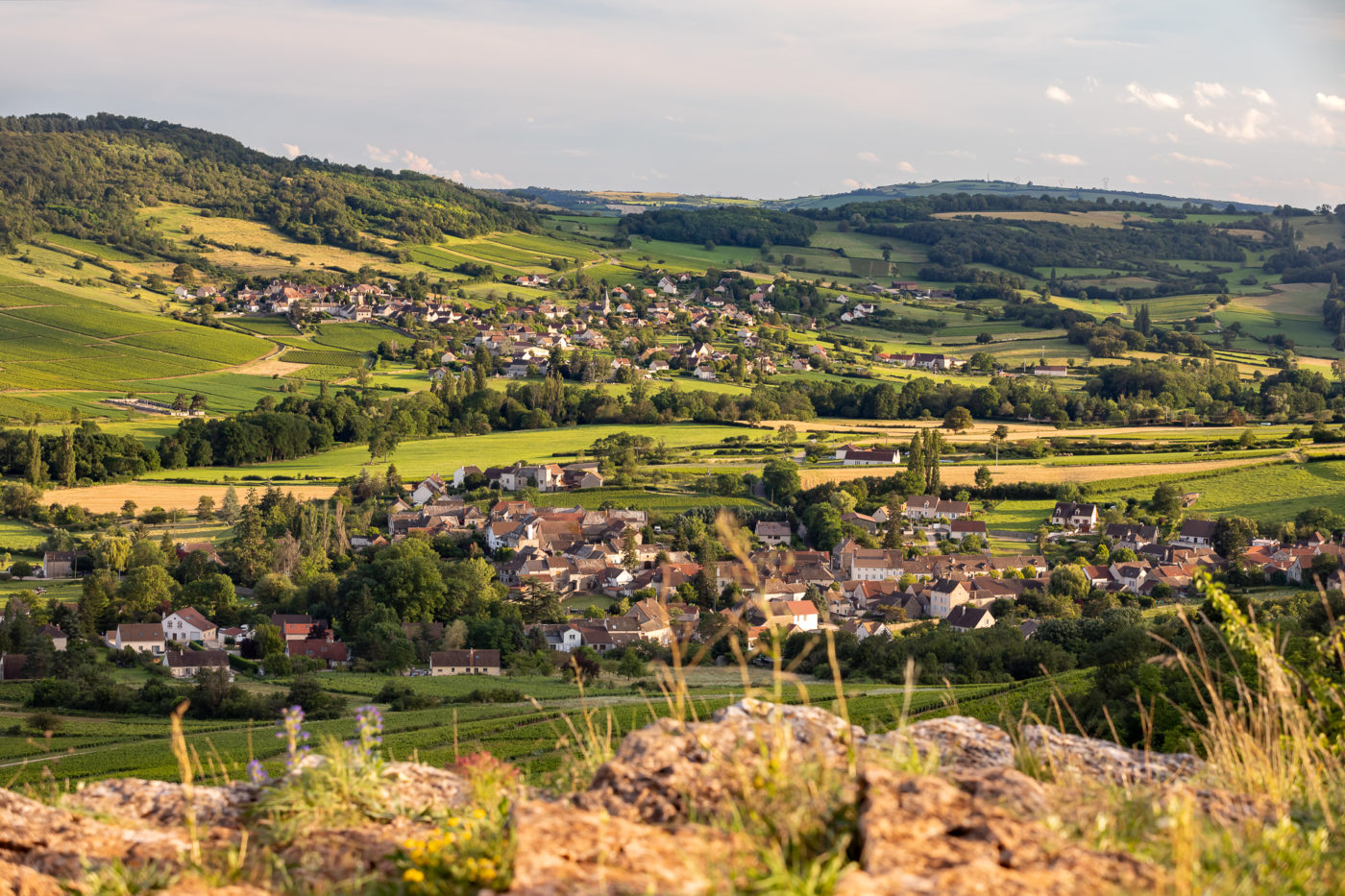 A long history
Vines have thrived in Mercurey for many centuries. The village has been witness to generation after generation of winegrowing enthusiasts. Times change but the vines remain. The name "Mercurey" is now rooted in our minds, although its AOC area covers two villages, the other being Saint-Martin-sous-Montaig and the hamlets of Touches, Bourgneuf, Etroyes and Chamirey.
At first glance, everyone thinks they know Mercurey: a label with a cult status associated with timeless Burgundy wines. Going back through history, diving into the archives and also into geology and geography, you learn about the influence of time over the development of this wine-growing area which now produces one of the one of the greatest Burgundy wines.
---
An account of times gone by
Visit the Mercurey area and you enter into one of Burgundy's mythical wine-growing regions. You are thrown into a land that bearing several hundred years of history. You enter into an atmosphere of conviviality, sharing, generosity, and celebration.
Mercurey, a modern, dynamic area, is more than its parcels of vines and renowned wines; it is a group of winegrowers who are actively developing ancient skills into a viticulture that is in tune with nature.
---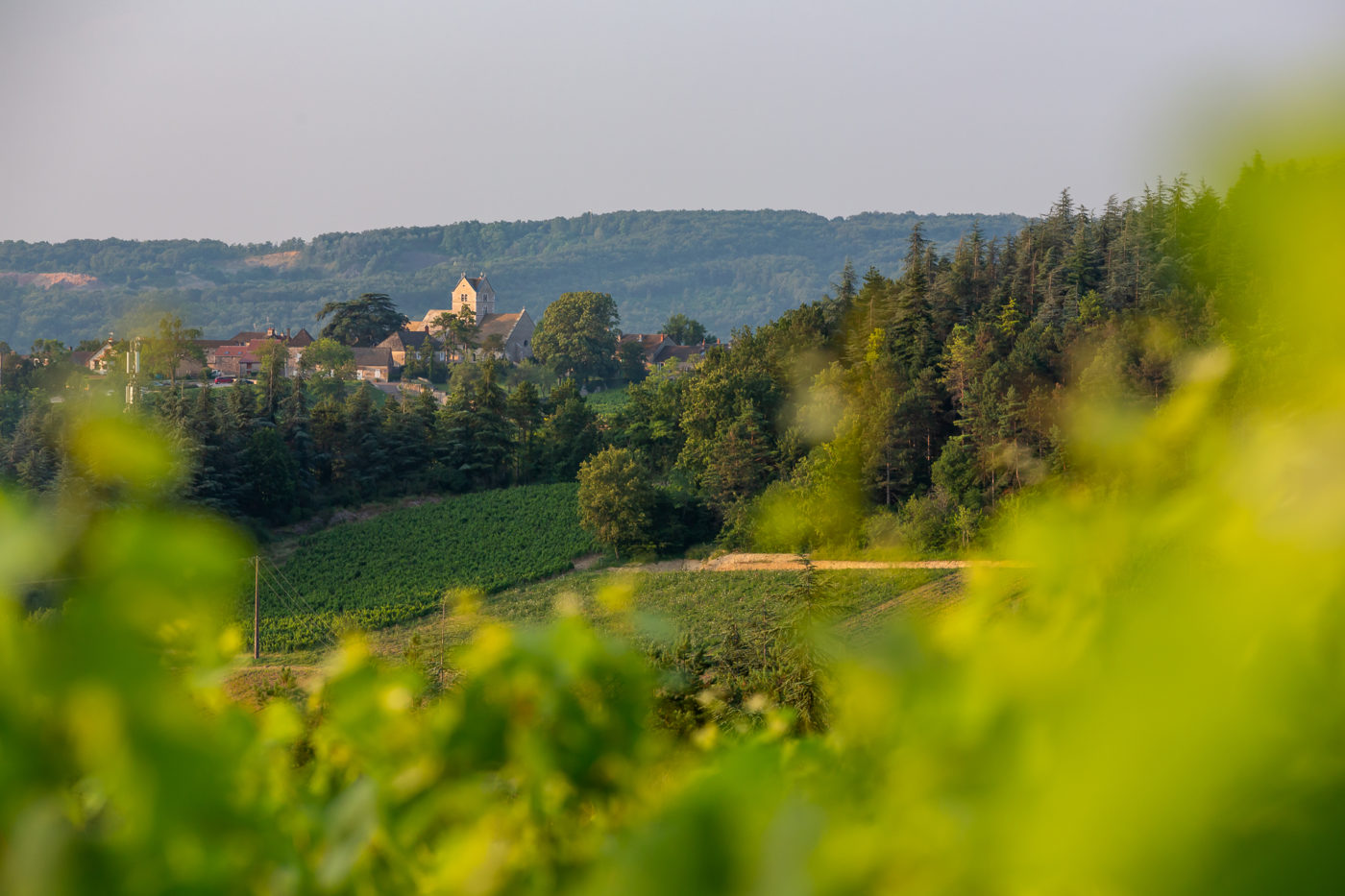 Wines to try and try again
Our wines are the fruit of a unique terroir and expertise, the result of history, techniques and values being passed down over time. We will now shine a light on the hectares of vines covering the contours of the Côte Châlonnaise ridge that bear the village appellation and the premier cru label.
Two types of AOC labels are used in the Mercurey wine growing area: the "premier cru" denomination and the "village" appellation. The Mercurey appellation has 85 lieux-dits, distinctive smaller areas, with the AOC village appellation and 32 with premier cru denomination.
With 85% of the area, or 543.17 hectares, planted with pinot noir grapes, the Mercurey appellation is renowned for its red wines and it is a good starting point for pinot noir wines.
White wines make up the remainder, with 15% or 105.83 hectares of chardonnay grapes, which might be less abundant but have a richly aromatic character with a real typicity thanks to the mosaic of terroirs in the area.
Le vignoble de Mercurey c'est :
543,17 ha de Pinot Noir, dont 148,22 ha en 1er Cru
105,83 ha de Chardonnay, dont 17,79 ha en 1er Cru

Chiffres datant de 2018, moyenne 5 ans 2014-2018
Source : Interprofession des vins de Bourgogne
À Mercurey : le Roc Blanc, les Rochelles, le Bois de Lalier, le Bois Cassien, les Bossebuts, les Doués, les Vaux, les Chenaults, la Chiquette, les Montelons, la Brigadière, Ropiton, les Villeranges, le Clos Rochette, les Mauvarennes, la Framboisière, les Montots, le Closeau, les Bussières, la Vigne d'Orge, la Vigne de Chazeaux, le Petit Clos Fourtoul, la Perrière, les Ormeaux, Mypont-Château, les Vignes Blanches, la Bouthière, le Clos la Marche, les Vignes du Chapitre, les Caudroyes, Garnerot, les Chaumellottes, les Ponges, la Corvée, le Clos des Noiterons, le Clos Rond, Pierrelet, Champ Roin, Champ Ladoy, le Meix de la Guinarde, le Puis Brintet, les Mussiaux, la Pillotte, les Maillonges, en Grillot, Sous Muchau, les Champs Michaux, en Pierre Millet, les Marcœurs, Champs Pillot, les Murgers, la Charmée, le Pontot, les Obus, Meix Adenot, Meix du Closeau, le Clos Laurent, Bourgneuf, les Morées, le Fourneau, le Meix Frappé, les Morins et les Petits Creux.

À Saint-Martin-sous-Montaigu : la Pidancerie, les Libertins, les Eriglats, en Boussoy, le Chatelet, Vignes de Chateaubeau, Sous les Roches, les Vignes Blanches, la Châgnée, les Arotes, le Cray, les Hattes, la Ratte, au Retrait, a la Ponsote, en Marrian Froid, les Bouères, les Bourguignons, Sur le Teu, la Grelode, la Moinerie et la Mourandine.
À Mercurey : les Puillets, les Saumonts, la Cailloute, les Croichots, les Champs Martin, les Combins, le Clos des Combins, le Clos des Baraults, les Crêts, les Naugues, le Clos Voyen, le Clos des Grands Voyen, le Clos l'Evêque, le Clos des Myglands, le Grand Clos Fourtoul, le Clos Tonnerre, les Vasées, les Byots, le Clos Marcilly, en Sazenay, la Bondue, la Levrière, la Mission, le Clos du Roy, Clos du Château de Montaigu et les Vellées.

À Saint-Martin-sous-Montaigu : le Clos des Montaigus, le Clos Paradis, la Chassière, les Fourneaux, le Clos des Fourneaux et les Ruelles
---
Mercurey: Burgundy's hidden treasure
This appellation has long been hidden behind imposing Burgundian names, and is a veritable gem to discover. Far from the image of traditional or rustic wines that is too closely linked to certain historical appellations, Mercurey's wines are constantly evolving. Several vines have been recently replanted, adding sweet, fresh notes and balance. As a witness to the cycles of nature and time going by, the Mercurey region had stood the test of time by producing timeless wines.
The diversity of our premiers crus is well-known. Our wines evolve over time and do not offer a type of wine so much as a multitude of flavours and bouquets, with dense, structured pinots noirs and chardonnays with minerality and floral notes.
---